Chamois Type B. Code: 628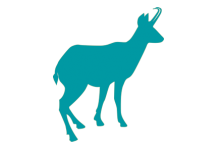 Description:
Quarter: Oseja. Permit duration: 2 days.
The hunts are intended for males satisfying any of the following characteristics:
• Horn width smaller than 6.5 cm, if the age is equal to or greater than 4 years.
• Horn perimeter smaller than 6.5 cm, if the age is greater than 4 years.
• Horns whose height does not exceed the length of the ear, if the age is over 4 years.
• Males with a single horn or with a broken horn, if the age is over 12 years.
In the event that the chamois does not meet the above characteristics or exceeds the score of 76 points, it will be held by the Technical Department of the Reserve, and the permit will be canceled.
Included in the starting price is the BASIC PACKAGE of services to the hunter, established by RESOLUTION of September 20, 2016, of the General Directorate of the Natural Environment, which establishes the amount corresponding to the expenses necessary for the control of the use For the season 2017-2018.

The additional fee is not included and will be settled at the time of hunting in accordance with the current regulations of application, ORDEN FYM / 436/2014, of May 19, which regulates orderly hunting and the exercise of Hunting in the Regional Hunting Reserves of Castile and Leon.
During the celebration of the Type B hunts, the hunter must follow the directions of the Rangers and can only shoot the animals that they select. In the event that one animal is selected and the hunter does not want to shoot it, the hunter will be given a second chance, if possible, and if the hunter does not want to shoot this animal, the Ranger will suspend the hunt, and it will be finished.
 
Hunting date:
Saturday, 4 November, 2017
To avoid problems with the bids, it is advisable not to wait until the last seconds of the auction so you will not have unexpected behavior between your web browser and the data server.
Read more
Closed auction