Montería de Jabalí. Cód: 0589 (PRECIO CERRADO)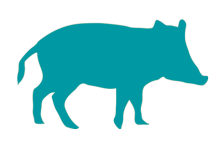 Description:
Cuartel: Canicosa. Duración de la cacería: 1 día.
El adjudicatario se encargará de la organización de la cacería, salvo la ubicación de puestos que se realizará por la guardería.
El cupo máximo de jabalíes a abatir es de 8 y el cupo de ciervos global de 12 (4 machos y 8 hembras). A liquidación final, incluido en la cuota de entrada 4 ciervos machos de 8 puntas o menos. El exceso de cupo o los ejemplares que no son objeto de control de desequilibrio se liquidarán sobre los de mayor puntuación conforme al anexo I de la Orden FYM/436/2014 para ciervo en batida incrementado por 2.
El PRECIO DE SALIDA será considerado como BASE IMPONIBLE, al precio de adjudicación se le incrementará el 21%IVA.
La batida no podrá comenzar antes de las 9 horas de la mañana ni finalizar después de las 17 horas. A partir de las 16 h. 00 m. no se comenzará ningún ojeo.
Hunting date:
Saturday, 3 December, 2022
To avoid problems with the bids, it is advisable not to wait until the last seconds of the auction so you will not have unexpected behavior between your web browser and the data server.
Read more
Closed auction