Roe Deer Type B. Code: 200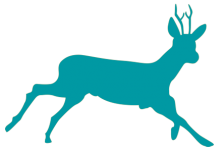 Description:
Quarter: Northern. Duration of the permit: 2 days.
Hunting dates: Open, Months from April to July and September.
Within this quota, roe deer with a score of less than 90 fiscal points may be hunted and for one or other reason they are considered selective by the Guards. Lots without trophy possibility.

Among other reasons we can cite the following:
• Corzo, who by his age, present clear symptoms of negative evolution of the trophy (ie old roe that the trophy is of lesser quality each year).

• Roe that by the configuration of the horn is considered to be a copy to eliminate.

• Roe deer with permanent defects in the horns In the event that a Type B Roe does not meet the indicated characteristics or exceeds the fiscal score of 90 fiscal points, it will remain in the possession of the Technical Department of the Reserve, giving the permission for canceled.

Included in the starting price is the BASIC PACKET of services to the hunter.

The complementary fee is not included and will be settled at the time of hunting, depending on the score of the piece collected according to ORDEN FYM / 436/2014, of May 19, which regulates the orderly hunting And the exercise of hunting in the Regional Hunting Reserves of Castile and Leon.
To avoid problems with the bids, it is advisable not to wait until the last seconds of the auction so you will not have unexpected behavior between your web browser and the data server.
Read more
Closed auction